PageFlip eBook Flower Themes with 3D Fresh Vision
Interesting 3D eBook Template for creating wonderful digital catalog!
Simplicity of operation for your PDF to 3D book conversion.
Help you DIY your flipping book with less time and energy.
Pre-designed background and pictures are provided for you.

Download
View Demo
Cool 3D PageFlip Themes for 3DPageFlip software help you to create more affecting digital 3D Books with shorter time. You can find stunning 3D sphere images in the eBook demo. Flowers are reproductive portion of any flowering plant (i.e. angiosperm family). Flowers present a multitude of combinations of color, size, form, and anatomical arrangement. These days flowers play a very important role in our daily life to balance our social behavior. Flowers are commercially available in the markets all around the year as these are used to enhance your love expression and happiness.
3D PageFlip Flower Theme designs templates based on wonderful flower backgrounds. Different color shows different flower meanings, and you can use these different color flower themes to build your gift digital booklets, flower store catalogs, family photo gallery, and electronic story books with page flip effect and 3D vision.
Before using these themes, make sure you have installed 3D PageFlip Standard or 3D PageFlip Professional.
This package belongs to "Fresh" template in the software, please find it in the "Fresh" template page after install.
Click here to know details about: How to use themes in 3D PageFlip software?
3D Page Flip Book Templates Screenshots - PageFlip eBook Flower Themes with 3D Fresh Vision: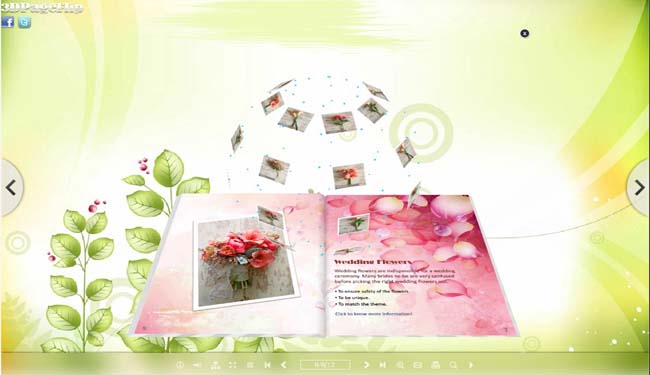 .