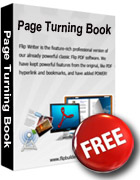 Freeware

Free Digital Page Turning
Book Maker
Powerful Converter for Interative Page Turning Book
100% free software for you to create realistic page turning book.

Make your static txt file vivid and flipping in a short time.
Simple user interface with multifunctional navigation bar to help you.
DIY your templates in your own style for the page turning book.
Comprehensive design settings and Bookmark features support convenient use.

Download
PDF to Flash
The Free Digital Page Turning Book Maker has powerful conversion function for you to change txt file into a digital page turning book. It's easily to use and master without taking too much time to learn professional knowledge. You can built fresh digital flipping book, interactive online magazines, real movie-like page turning book efficiently. Free digital page turning book maker have basic function includes full screen view, help, print, thumbnails shot, sound setting, zoom in and out, share with others, auto flip and so on. What's more, it has further functions, such as converting your txt file into HTML format with the mobile version.
You can get more detail about Free Digital Page Turning Book Maker below. If you have further requirement or need other version of the conversion software, you can click here: 3DPageFlip Standard.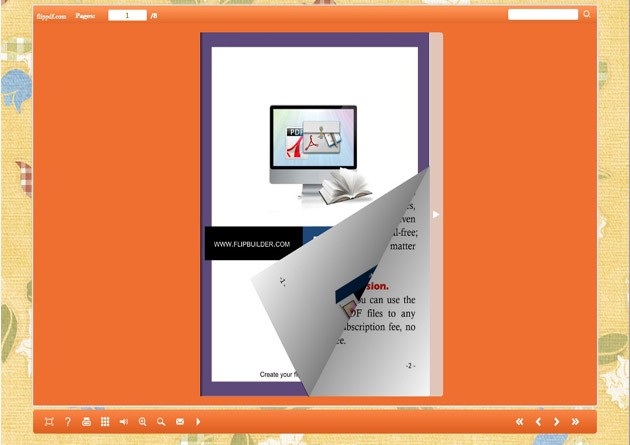 Four Main Great Features
Feature One: Design

Comprehensive and integrative design setting functions with powerful navigation bar in the left of the free digital page turning book maker software.
Replace templates and change background color.
Set book proportions: top margin, bottom margin, left margin, right margin…
Set page shadow: left and right page shadow, page shadow opacity.
Set background config: right to left, hard cover flipping time.
Set tool bar format: icon color, zoom config, download setting, share button…
Set font details: font color, button font, window font and its color, bookmark font and its color.
Feature Two: Import And export

Great import options not only include txt, but also include pdf, word, ppt, photo, format and the txt in this software is for free.
Multiple export options contain html, zip, exe, app. In addition, you can publish your page flip book with a mobile version to make it available to read on iPad, iPone, iPod and so on.
Feature Three: Google Analytics

The free digital page turning book maker supports you analyzing traffic of your online publication. You just need a google analytics ID and put it in the relevant place of the software. Then you can own a new method to analyze your traffic and optimize your website.

Feature Four: Templates

Customize your templates in the free digital page turning book maker fluently. You can import beautiful picture as your unique background. You can save it after you set a wonderful templates and share with your friends.
If you need convert PDF to 3D flash Flipping Book, please see : 3DPageFlip Standard
Introduction to 3DPageFlip Standard:
--------------------------------------------------------------------------------------------------------------------------------------------------------------------
3DPageFlip Standard is a perfect tool to transform your PDF files format into realistic 3D page flip magazines. With 3DPageFlip Standard, You can create amazingly realistic 3D interactive magazines, catalogs, brochures, books or newspapers in minutes without any Flash/HTML or programming skills. And you can use your 3D Digital Brochure edition online, offline (on your PC, IPad etc), burn it to a CD/DVD or use it with an usb storage device.
The pages turn with the option of rolling the entire book in three dimensions, and this induces a feeling in users as if they are holding an actual book in their hands.
Use realistic 3D page flip magazines effect to promote your book, boost your book's sales or to demonstrate your book in realistic, visual 3D animation!