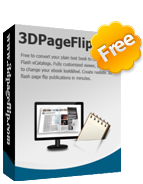 Freeware

Free 3DPageFlip Image to Flash
100% Free

Converter for image to flash and help you create flash slideshow easily and quickly!
Create dynamic flash slideshows from a dozen of photos, export JPG images to SWF format flash.

User-friendly interface and simple conversion steps for any users.
Support batch convert graphics to flash in a short time.
Support Watch Folder Method for image to flash conversion automatically.
Support Command Line conversion from dozens of images to flash.
If you need to convert PDF to Cool flipbook with 3D panoramic effect, page flip effect, 3D Sphere Gallery, 3D spin video, ect, you can try 3D PageFlip Professional.

Free Trial
PDF to Flash
Free 3DPageFlip Image to Flash is an application with a pretty suggestive title which allows you to encode flash files from image files. It's designed to convert JPG to stunning SWF file which is a way to show pictures through a browser with slideshow effect!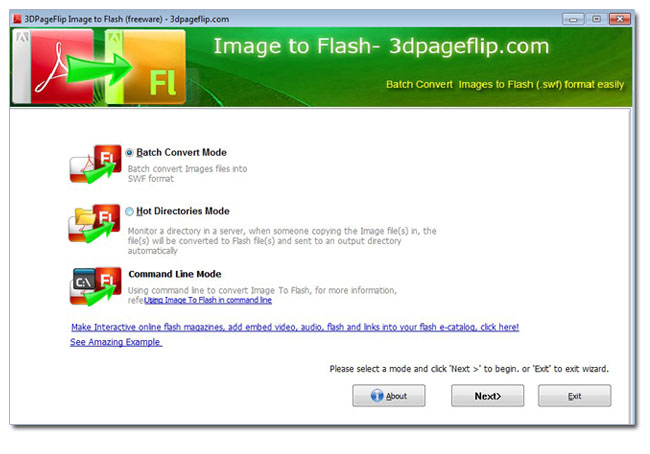 The Hot Directory mode, which work as "drag and drop" method is supported and Batch processing is permitted. All you have to do is specify the destination folder. For example, define the input file for dropping JPG files in and define the output file for generating flash files in. Then the conversion will process automatically while someone throw the JPG in the input file and converting to flash in the output folders. There is a button between Hot Directory mode and batch convert mode. You can get a quick click to access to batch convert for huge image to flash conversion work as well. However, if you are an advanced user, then you are probably interested in using command line to access batch flash conversion process. It's possible in this kind of image to Flash Converter and wizard is offered in the program for image batch convert command line.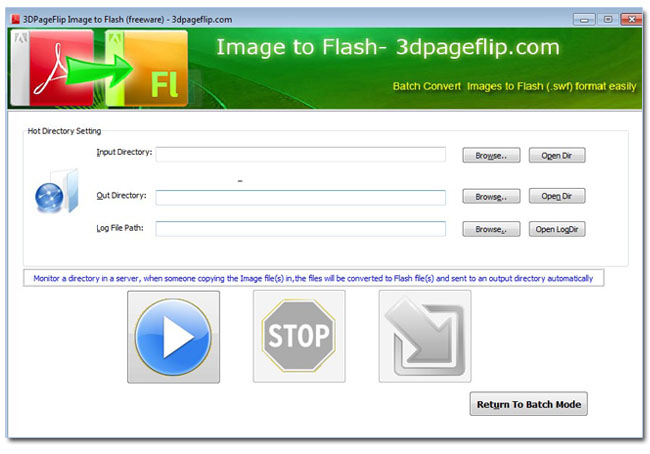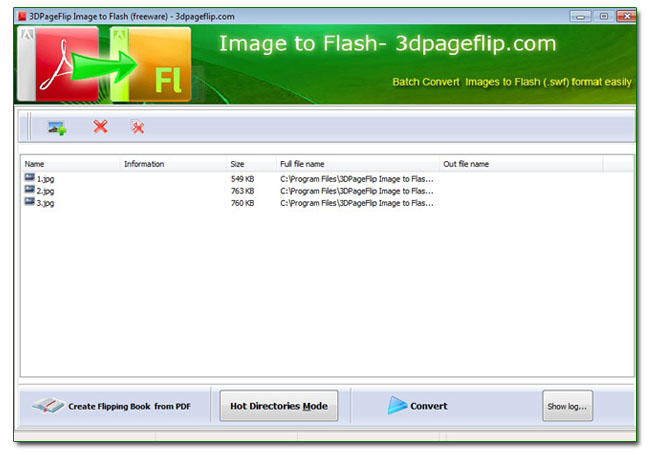 The simple-to-use application runs on a low-to-moderate amount of system resources, can guide you to quickly convert photographs to flash while maintaining a very good quality. User-friendly interface is very easy to use with merely a few clicks for the batch conversion with high processing speed. With the output images flash slideshow, all the converted photos can be shown on the Web and can be embedded in a web page and shown inside it altogether with other web page content. Distribute your pictures with the flash file on the Internet for other people to see is easier with it. View it easily through the browser and send it to others with small file size instead of a huge number of JPG files. If you have been looking for a way to share photo as a flash slideshow to others online and offline, then 3DPageFlip Image to Flash is definitely worth taking a look at.
All in all, 3DPageFlip Image to Flash is a very good program when it comes to converting JPG to SWF and we strongly recommend it, since it can be easily used by individuals of any level of experience.
Introduction to 3D PageFlip Professional:
--------------------------------------------------------------------------------------------------------------------------------------------------------------------
3D PageFlip Professional is a comprehensive creator to convert PDF to flash flip eBook with 3D effect and multimedia content. The fantastic feature of the eBook is its 3D Look and realistic eBook look! Users can easily edit eBook page by inserting links, buttons, flash, images, etc, as rich and interactive content! Moreover, users can create 3D Model for their objects easily in this flipbook software. For example, you can create 360 degree spinning product to show an object fully. You can insert 3D Sphere Gallery for pictures to offer others a visual feast! 3D eBook is not only a page flip book for reading, but also a delicate exhibit as 3D e-magazine, 3D e-brochure, 3D e-catalog to show people the most fantastic 3D digital content!
Download