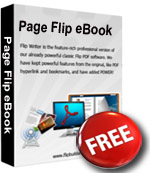 Freeware

Free Page Flip eBook Creator
Page Flip eBook Creator – A Helpful Software For Free
Convert your txt files (even other file formats, such as pdf) to animated page flip eBooks conveniently.

Professional output format, help you publish your eBook fluently.
Make the page flip automatically with beautiful song.
Customize your page flip eBooks easily and quickly with wonderful templates.
Friendly to share with others through the free page flip eBook software.

Download
PDF to Flash
Page Flip eBook Creator is a flash book maker which can be downloaded here without any payment. This free software will bring the special experience to you because it would help you to DIY you eBook which come from your txt files. Let the txt file fly will never be a dream.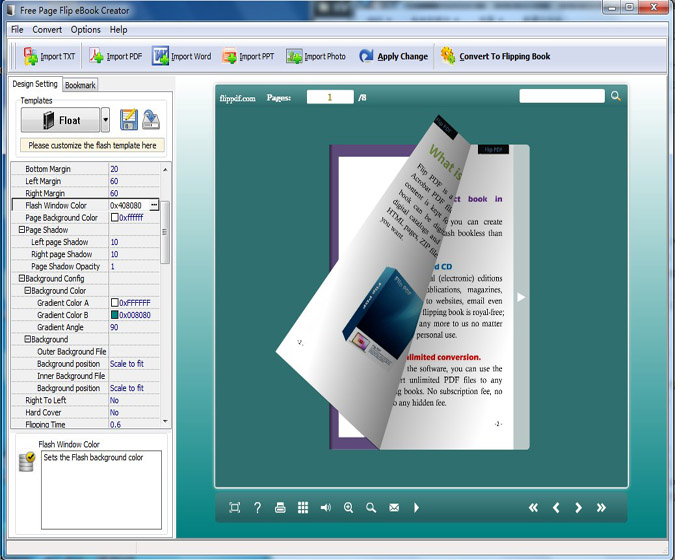 What can the Page Flip EBook Creator do?
There are a lot of things it can do.
Import your files to convert
The journey of making flipping books will start from importing your txt files. If you require further conversion, you can get to the 3DPageFlip Standard.
Well design your page flip eBook.
You can set your page flip eBook information by your own, including book title, book size, book position, pages details, background pictures, flipping time and so on.
You can allow music to play while you open the page flip eBook. What's more, it's OK to make the sound loop.
You can design your tool bar with every detail, not only the appearance but also the function. For example, hide the button you don't need, or change the icon color.
You can make a link to your website.
Great book mark for you
Feather of the book mark is available. You can mark the page you want. Furthermore, you can write down your opinion aside the bookmark. Useful feature help readers of the page flip eBooks to do some reading.
High- efficiency publishing feature
The free software allows you to publish the page flip eBooks in several different formats, including exe, zip, app, HTML and so on. In this case, you can publish the eBooks online or you can convert as an exe file and send it to your friends.
If you need convert PDF to 3D flash Flipping Book, please see : 3DPageFlip Standard
Introduction to 3DPageFlip Standard:
--------------------------------------------------------------------------------------------------------------------------------------------------------------------
3DPageFlip Standard is a perfect tool to transform your PDF files format into realistic 3D page flip magazines. With 3DPageFlip Standard, You can create amazingly realistic 3D interactive magazines, catalogs, brochures, books or newspapers in minutes without any Flash/HTML or programming skills. And you can use your 3D Digital Brochure edition online, offline (on your PC, IPad etc), burn it to a CD/DVD or use it with an usb storage device.
The pages turn with the option of rolling the entire book in three dimensions, and this induces a feeling in users as if they are holding an actual book in their hands.
Use realistic 3D page flip magazines effect to promote your book, boost your book's sales or to demonstrate your book in realistic, visual 3D animation!