3D PageFlip Professional
All-in-one flip book maker, an affordable flippingbook tool to convert PDF, OpenOffice, Images to realistic flipping book with rich multimedia elements embedded in pages!
Convert PDF, OpenOffice, Microsoft office, images to accessible and traceable flipbooks.
Support batch convert PDF to flipbooks.
Design and Branding - logo, company info, Background, tool bar, 3D flip effect, etc!
Edit pages - Create 3D Objects and Embed image, flash, video, links, buttons, etc.
Multiple Outputs for PC, tablets, mobiles - EXE, HTML (online use), ZIP, 3DP; publish for iPad, iPhone or Android devices; upload to FTP server directly.
Social Integration - Share online flipbook worldwide.
Upload online - Publish flipping book on

3DPageFlip

Server directly & Share Online.
Updating all the time, view detailed update information.
---
File Size: 75.41MB

Why Use?
Features
Screenshot
How It Works
VS Standard
What can 3D PageFlip Professional do for you?
Building on the Standard version, 3D PageFlip Professional adds features that allow you to convert Adobe Acrobat PDFs, OpenOffice, Microsoft Office to flipping book with realistic 3D Flash effects and stunning page turns! Also, this flip book PDF tool offers comprehensive design options for users. Anyone can easily create multimedia contents in pages like slideshows, 3D Image Sphere gallery, 3D Product Present, 3D Video, etc.
Start with this 3D flip book maker and you can build fantastic PDF to flipbooks, 3D page flip magazines, Flash product catalogs, page turning brochures or even a 3D flip e-newspaper, etc!
New theme for 3D flip book maker is available. Here is the Snowflake style free template for PDF to page flip converter.
Quick Import PDF/OpenOffice/Microsoft Office/Images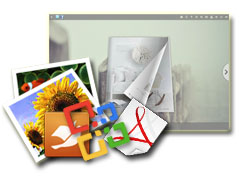 Import Multiple Formats: Now, Importing Office documents is available in this professional flipbook software! You can quickly and easily import Adobe Acrobat PDFs, OpenOffice, Microsoft Office Word, PowerPoint, and Excel documents to create flipping book, magazines, photo albums, business brochures, etc.
Batch Convert: Batch convert dozens of PDFs at the same time.
Multiple Outputs For PCs, Tablets, Mobile Devices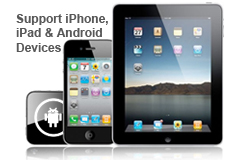 Different output types cater to different needs. Lots of sharing ways available by simple publishing! Output options of this flipbook software:
Flash/HTML5: Publish flipbook on personal website or embed in blogs!
Zip: Zip "HTML" format and easily send to others!
EXE: Easily view flipbook on PC without extra player!
3DP: Helpful to email eBook! Read 3DP book in a specific 3D PageFlip Reader.
To FTP Server: Upload to own website directly via integrated FTP
Support burning to CD!
Also, you can publish for iPad, iPhone, Android devices, etc.
Only a browser is required in mobile device to get the online flipping book work.
Upload FlipBook Online Instantly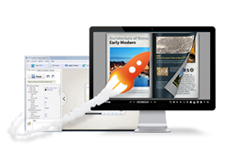 Do you want to share page flipping book online? 3D PageFlip Professional offers you a full solution! You can click "Upload Online" button in the flipbook software to create personal account and upload flipbook online ( to 3DPageFlip Server) without FTP or other publishing tools! An easy and quick way to share flippingbook worldwide! Know more about Online Service.
Style Design And Company Branding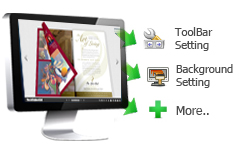 With using this professional flip book maker, you can customize logo, book info, toolbar, background, flip sounds and more features to create matchable content and style for your organization's identity:
Company Branding and Copyright settings: Define unique book title, logo, company info, etc.
Toolbar Button Settings: Hide/show toolbar buttons, to enable or disable related features, like ZoomIn, AutoPlay, Thumbnail, Background Sound, etc.
More Settings: language, pre-loader, background image and audio, page thickness, flip orientation, HTML metas, etc.
Page Editor - Embed Multimdia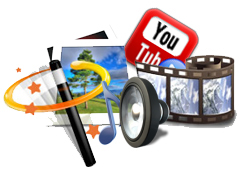 Page Editor is a powerful module in the flipbook software that enables users adding multimedia elements to flippingbook pages.
Add hyperlinks, buttons, and bitmap buttons.
Add full-style texts and fonts.
Add MP4/FLV videos and YouTube movies.
Add flash, animations, audios.
Add images, slideshows.
Action Settings - Define Actions For Multimedia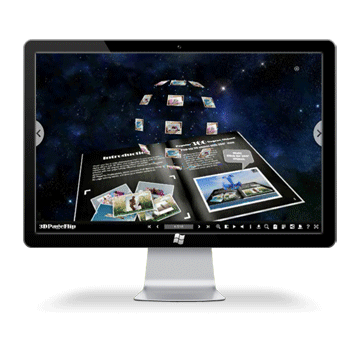 After embedding multimedia to pages, you can set action options for the elements. Especially create the 3D effects to surprise your readers without doubt.
Define "go to page", "open web page", "play audio".
Create pop-up text, video and flash.
Create products presentation - show object with 360 degree vision.
Create 3D Video - Watch video in panoramic space.
Create 3D Sphere Gallery - make images slideshow with a Sphere.
Templates, Animated Scenes, Themes For Background Design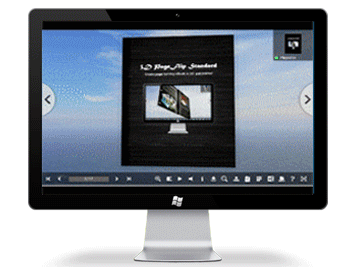 There are several 2D/3D templates and animated scenes in this 3D flip book maker for decoration. Panoramic is the most stunning one which offers a realistic 3D scene as flipping book background. Also, we offer online themes for download. You can make changes to any template or theme based on your page flipping book style or design requirements.
Social Integration - Share Flipbook Worldwide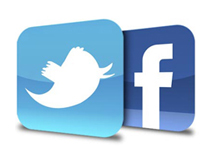 3D PageFlip Professional helps you to share online flipbook with the free AddThis sharing platform. You just apply for a free user account to get the ID and set that in the 3D flipbook creator. This allows users to choose from their favorite Twitter, Facebook, LinkedIn, Digg or just share through email. AddThis reports how many people shared your flash page flip book in your account record. Learn more details via FAQ :
How to enable readers to share 3D eBook online
SEO Integrated And Google Analytics Supported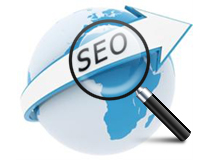 This flip book maker helps to build SEO-friendly flipping books which are integrated for Google, Bing, Yahoo and other search engines. Everyone can reach the online books with ease through the Internet. Also, code of Google Analytics can be embedded to each 3D eBook helps to analyze and monitor the traffic of published books, and then you can measure your ads ROI and other status to build more powerful campaigns.
Security For FlipBook Users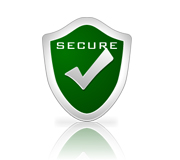 3D PageFlip Professional is 100% guaranteed secure software to install. Also, you have complete control over how readers can view or print your flippingbooks. It supports setting password for the output flipbook. The online service is with encryption technologies that save your data in a secure way. You can create your account to upload or manage flipbook online.
Product Features
Import
Convert Adobe Acrobat PDFs, Images, Open Office, Microsoft Office Word, PowerPoint, and Excel to Adobe Flash based 3D eBooks.
Create 3D page flipping book, show page turning effect and 3D spinning effects.
Define page range (to import), pages quality and size for imported PDF pages.
Import hyperlinks (web/page/email links) and table of content from original PDF.
Enable searching text in flipbook.
Detect wide pages.
Provide several render engines to choose and avoid distortion for some special PDF files.
Save settings as project for future use or edit.
Publish
Multiple output options: Flash/HTML5, EXE, Zip, 3DP, To FTP Server.
Flash/HTML5 allows to upload to website to be viewed online (with title, keywords and other metadata defined).
ZIP is a zip file of Flash/HTML5, convenient for delivery.
EXE (with setting title, icon and open window size) and Zip allow you to send to your user by email to be viewed on their computer.
3DP is a special format for 3D PageFlip Reader – suitable for email sharing.
To FTP Server will help you upload the flipbook directly to your website via the integrated FTP option.
Mobile version is to output HTML flipbook which can be viewed on mobile devices via Browsers (slide single pages or flip pages on mobiles).
Burn to CD allows to burn to disk so that you can send your user physical media for viewing on their computer.
Upload Online To 3DPageFlip Server
Upload flipbooks to 3DPageFlip Server; publish flipbook online without any tools.
Manage online flipping books easily (Hide, delete, or share).
Templates/Scenes/Themes
Design, save, import and select templates for 3D flash flipping book, including 3D panoramic background.
Design background with pre-designed animated scenes.
Download and import free themes for decoration.
Design And Branding
Define logo, home page link.
Set custom information for the online flip book, including book name, website address, Email and details info. It will be shown in the 'About' window.
Design flash language for output flippingbooks.
Create table of content for flipbook
Add password to protect flipping book, add hint for password
Set pre-loader for flipbook with favorite color, text
Enable Auto Flip with setting Flip Interval.
Define page thickness, book auto scale for different size of browsers.
Pre-set tilt angle while using the 3D page turning book.
Apply a picture or set a pure or gradient color as flipping book background.
Friendly for SEO purpose and Google Analytics.
Allow viewers to share with friends via Facebook, Twitter, iGoogle, etc, even more, sharing Analytics is supported.
Multimedia Adding
Support importing PDF/Image/SWF to extra pages; support deleting pages
Add vivid feature to flip book pages, including link, movies, pictures, sounds, flash (swf), button, YouTube and so on.
Create 3D Image Sphere Gallery for inserted images
Create 360 degree spinning object for 3D product show
Hand tool, Zoom in, Zoom out, Delete, Copy, Cut, Paste, Undo, Redo to help page editing
After conversion, you will get the 3D flash magazines with the following features:
Real book-like digital flipping book with page turning effect.
Spin 3D flip eBook in 360 degree in panoramic template.
Watch video in 3D space with 360 degree vision.
Editing function brings: 3D objects, flash, music, video, button, link in the flip book pages.
Use navigational buttons or drag page corner with mouse to turn pages.
Double-click or click zoom button to zoom in or zoom out pages in multi-level.
View pages thumbnails and get a quick arrive to your targeted pages.
Make the 3D PDF to flipbook play by itself.
Adjust Tilt Angle or wheel mouse to change angle to get 3D effect.
View 3D flip eBook detailed information.
Play background music.
Open bookmark window to add bookmark as a tag.
Share with friends with the flash eBook.
Get the flipping book print with any pages you want.
Full screen to view flipping eBook.
Open in the Browser to a specific page by adding a page index to your URL.(E.G.www.yourdomain.com/index.html?p=4).
Screenshots of 3D PageFlip Professional :
The Main Interface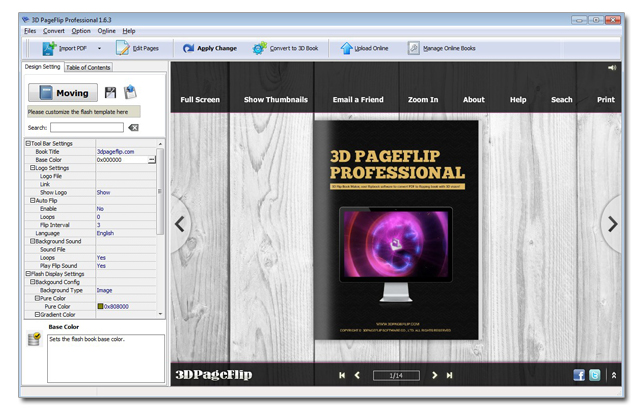 The Page Editing Interface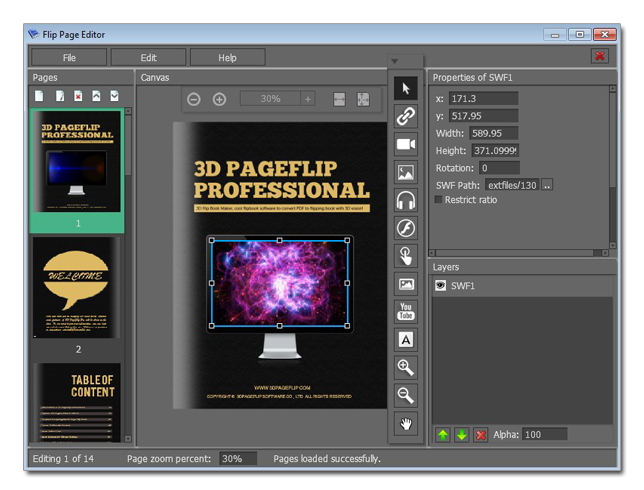 Steps to create 3D flipping book with 3D PageFlip Professional:
Step1: Import PDF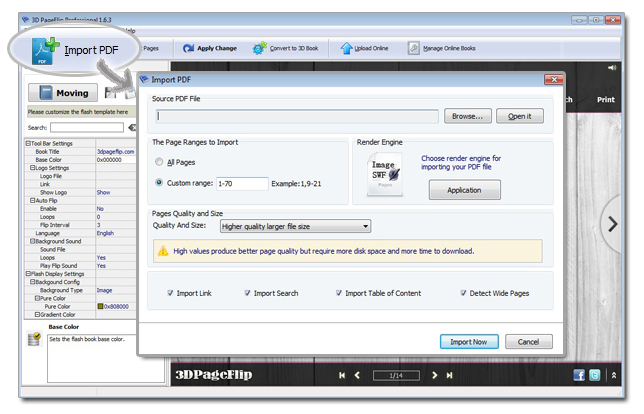 Step2: Design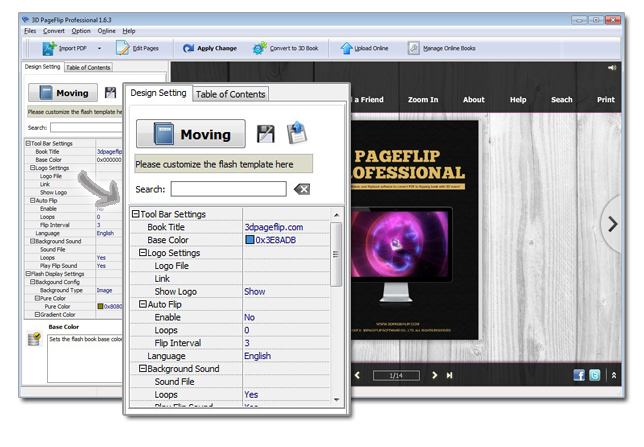 Step3: Edit Page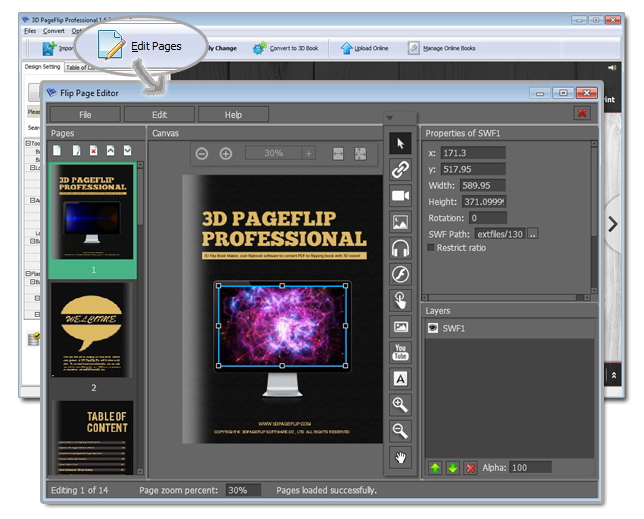 Step4: Publish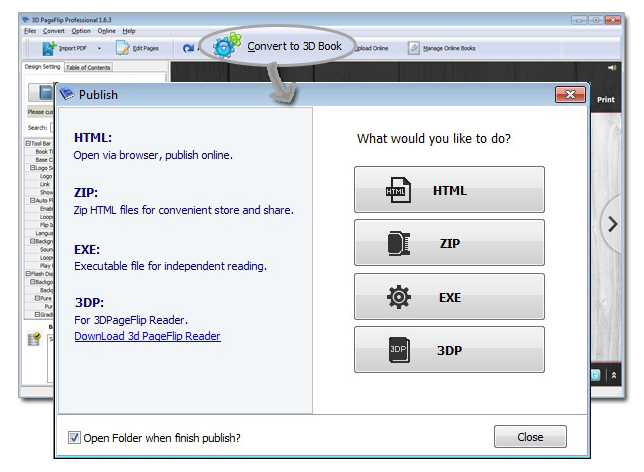 Step5: Upload Online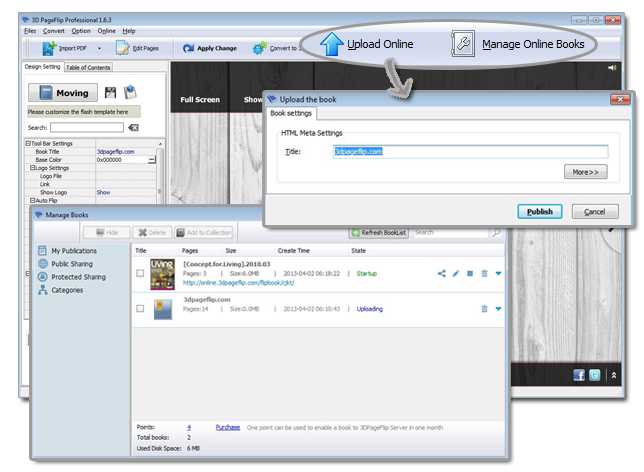 3D PageFlip Standard VS 3D PageFlip Professional
Content
Item
Features
3D PageFlip Standard

3D PageFlip

Professional

Import

1
Convert Adobe Acrobat PDFs, Images, Open Office, Microsoft Office Word, PowerPoint, and Excel to Adobe© Flash® based 3D eBooks
2
Define page range (to import), pages quality and size
3
Import hyperlinks (web/page/email links) and table of content from original PDF; enable searching text in flipbook; detect wide pages
Publish
4
Multiple output options: Flash/HTML5, EXE, Zip, 3DP, To FTP Server
5
Publish for iPad, iPhone, Android Devices
6
Support burning to CD
7
Support Batch Convert, including merge PDFs to one flipbook
Upload Online Service
8
Upload flipbook to 3DPageFlip Server, publish flipbook online without any tools
9
manage online 3D page flip books in your own account
10
Share via email, social site (facebook, twitter, etc); embed to blog or website

Template Scenes

Theme

11
Pre-designed templates for design:

3D Panoramic

, Float, Handy, Fresh, Plain, Facile, Panda, Neat, and Flexible
12
A group of builded-in flash scenes for design
13
Updating online themes for free download
Design and branding
14
Define logo, home page link, author or company information (email, website, description),etc
15
Define template details, like toolbar color, background image and sound, flip orientation, auto play, page thickness, book scale percentage, etc.
16
Hide or Show buttons: Download, Print, Share, Zoom In, Home, Info, Help, Bookmark, Thumbnail and other buttons
17
Create table of content for flipbook
18
Set pre-loader for flipbook with favorite color, text
19
Enable searching property in Design Setting panel

Page Editor

(Add Multimedia Contents)
20
Importing PDF/Image/SWF to extra pages; Deleting pages
21
Add hyperlinks to pages (web/page/web/pop-up images/JavaScript function)
22
Add audios, flash to flipbook pages.
23
Add fonts and texts to pages (many font style to choose)
24
Add button or bitmap buttons into pages with various interactive actions (callout images, links, flash etc.) to pages
25
Insert images to the imported pages (define actions, like go to webpage, open pop-up images, create photo slide show etc.)
26
Insert local FLV or MP4 movie, YouTube video to pages, define play actions
27
Create 3D Image Sphere Gallery for inserted images
28
Create 360 degree spinning object for 3D product show
29
Hand tool, Zoom in, Zoom out, Delete, Copy, Cut, Paste, Undo, Redo to help page editing
language
30
Create your own language for output flipbook, suitable for users who come from different countries
security
31
Add password to protect flipping book, add hint for password acquirement (a purchase link for password)
Social Share
32
Many ways for share: email, social network, AddThis platform, embed flipbook in personal blog (Wordpress)
Google Analytics
33
Set GoogleAnalytics ID for eBook traffic monitoring and set Share ID for sharing
SEO-Friendly
34
Define metas (titles, keywords, description) for HTML online flipbooks
3D PageFlip Standard Info >> Download 3D PageFlip Standard >>